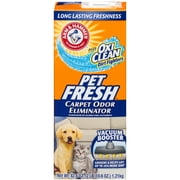 Pet Fresh™ Carpet Odor Eliminator helps rid your home of the not-so-nice part of having a pet. Unwanted hair and dirt are vacuumed up with ease, and odors are destroyed deep down at the source.
Added power of Oxi
Clean™ Dirt Fighters
Vacuum booster loosens 25% more dirt and pet hair than vacuuming alone
Leaves behind long-lasting freshness
ELIMINATE DEEP DOWN CARPET ODORS
Customer Reviews
Fresh, clean helper with kids and pets.
I use this on my carpets to help release the cat hair and dirt and also a little in the litter box. Use it on furniture and even your matress and vacume it up after you let it sit for a little. Lots of great uses to keep your home feeling and smelling fresh.Nancy
Strong scent
I bought this for use in the litterbox room and was hoping the scent would be strong. I was not disappointed. I use it to sprinkle into the garbage that holds the used litter to keep it from smelling before the bag gets taken to the trash. I use the 4-gallon bags and take them out every few days. This eliminates the odor from the trash.EasyToClean

Love this stuff. Pour it all over my carpet or fabric couch, let it sit for atleast 15 minutes, then vacuum up. Leaves the carpet refreshed and the whole room smelling clean.
You may also be interested in