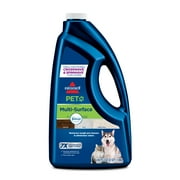 BISSELL PET Multi-Surface with Febreze Formula is engineered to work with our innovative Cross Wave and Spin Wave machines. It also works in BISSELL Jet Scrub Pet carpet cleaners. This powerful formula tackles tough messes on hard floors and area rugs. It removes pet messes and eliminates odors from area rugs and sealed hardwood, ceramic, tile, linoleum, and other hard floors. It leaves behind a fresh, clean Febreze scent and virtually streak-free floors.
Wave® only.Safe to use on sealed hard floors and area rugs.*Safe to use around kids and pets when used as directed.Formula made for all BISSELL Cross
Wave® and Spin
Wave® machines and safe for use in Jet
Scrub™ Pet carpet cleaner.Earth Friendly Formula. Contains no heavy metals, phosphates, or dyes. Biodegradable Detergents.Every BISSELL purchase helps save pets. BISSELL proudly supports BISSELL Pet Foundation® and its mission to help save homeless pets.
Customer Reviews
I would definitely recommend this product
[This review was collected as part of a promotion.] I was leery about buying this product as I've purchased a few that left a film on my floors. This product worked wonderfully and left a nice shine on my floors. As a bonus it smells very nice, clean but not overpowering. I have two malamutes and this product keeps up perfectly.Robin
I would recommend this product to anyone to use.
[This review was collected as part of a promotion.] It is a very good product to use. I love it very much and I use it almost every day cleaning my apartment in my kitchen and bathroom floor almost every day. I also recommend the Bissell Crosswave Pet Pro to anyone that wants to buy one. You won't be disappointed at all. Because it is a very good product and Bissell machine as well to use at any house or an apartment as well. I have been ber satisfied with with it and I love all the products Bissell has to offer to anyone that wants to own one of there own as well. I will always by the Multi-Surface floor from you guy always when I need to buy a new bottle of it to clean my floors all the time here in my apartment.Austin
I would buy this product again and again
[This review was collected as part of a promotion.] I love the Bissell crossways at pro and all the products that you get with it and also that cleaning solution and it works very well and I would recommend it to anyone especially my family as well. When my mom saw the machine when I clean her wood floor for her. When got done with using it at her house. She said she would love to own one her selfAustin
You may also be interested in