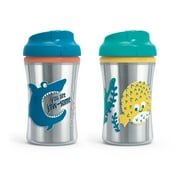 Keep your toddler's drink cool through every adventure with First Essentials by NUK Insulated Cup-like Rim cups. The cup features a unique bite-resistant, flat rim designed help teach your toddler the motions of drinking from a spoutless cup. The cup includes Arctic Wrap insulation, keeping drinks cool up to 6 hours. This 9-ounce sippy cup is 100% leak-proof and spill-proof, guaranteed!
Arctic Wrap insulation keeps drinks cool up to 6 hours
BPA-free and dishwasher-safe9 oz. sippy cup in a pack of 2
Customer Reviews
Love these!
Perfect sippy, but they do leak after a while but I havent found a sippy that doesnt eventually leak .
A
These work great! No spill, no mess!TheNameIsMommy
Dishwasher safe?
I originally wrote a review for the camo version so this is somewhat a repeat of that. My only complaint I have with these cups is that the cute designs do not hold up to washing in the dishwasher. Love them otherwise, theyre the only cups that my little one doesn't chew through and they don't leak very much compared to other cups. But mine haven't cracked
yet either like a lot of other reviews... I have 8 of them, I've bought just about every design suitable for a girl and I've had them for quite a while. I would just suggest that the designs should be on the inside, printed on the silver part of the inner insulated cup. The camo design has held up just fineOkayest mommy
You may also be interested in