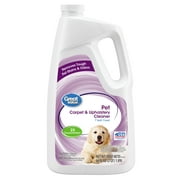 A house full of pets can still be a clean house thanks to Great Value Pet Carpet & Upholstery Cleaning Formula Cleaner. This heavy-duty formula removes tough pet stains and odor, leaving carpets and upholstery looking good as new. It's double concentrated, allowing you to quickly and easily get rid of dirt and debris.
Removes tough pet stains and odor2X concentrated
Fresh scent
Keeps your home looking and smelling fresh
Safe for use in leading full-size deep cleaning machines when used as directed.
Customer Reviews
Odors gone and carpets clean
This carpet shampoo worked wonders on my pet stains and my room now smells great! My new'ish carpet looks new again!appleFan
AFFORDABLE
Wonderful, effective all-around carpet cleaner for use by hand or with carpet steamer machine. Very effective against stains of all kinds, including pets. Also, more affordable than other cleaners on the market.BSRNC
Make the $8 Switch! It Works!
Works as good as brand name formulas and I have used this formula as a carpet cleaner and wood/tile/misc floor cleaner and it works every time! After wasting about $8 extra per bottle on the names, I emptied my last retail ripoff and enjoy the scent of it as well.
You may also be interested in