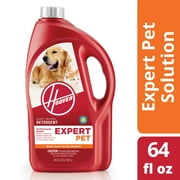 The Hoover Expert Pet Carpet Cleaner Solution has powerful enzymes to break down biological stains, dirt and odor for a truly deep clean. Get the best clean with the line of hoover carpet shampoos that work with all carpet cleaning machines.
Great Clean for Any Machine: Safe for use on carpet and upholstery with all full-size and spot cleaning machines
Cotton Breeze Scent: Enjoy the fresh, clean scent of Cotton Breeze
Carpet and Rug Institute (CRI) Seal of Approval: Tested and approved by the Carpet and Rug Institute to effectively remove stains and soil without adversely affecting the appearance or performance of your carpet
About the Hoover Brand
Simple. Clean. Living. For more than 100 years, HOOVER® has been committed to improving the well-being of peopleâs homes. The first ever Hoover innovation was an electric suction sweeper that used a pillow case to capture dust and allergens. And to this day, Hoover continues to develop simple-to-use products that enhance the cleanliness, the comfort and the health of peopleâs homes. Because when your home is at its best, so are you.
Customer Reviews
Great defense against stains
I got this about a month ago and I'm so thankful that I did, after waking up to a dog that was sick and having to run the steam cleaner I added pause and clause which was the name of my Hoover carpet cleaning formula solution which also smelled like cotton breeze which neutralized and defense Stain guard for future stains I should my add. Some of the stains had actually sat for a few hours so they were starting to dry so I need to add my pet odor elimination formula booster to add to help with the smell but also this tackled the in dirt and pet messes that were deep down and it has power for enzymes and odor neutralizer's as well now I couldn't really vacuum before steam cleaning so I just had to steam clean but normally I would vacuum but because it was throw up I just steam cleaned right away I did clean up what I could with paper towels and spray then I steam cleanAnd I have to say it did a very deep cleaning and odor Replacement of the smell which will also give it a stain guard for easy cleanup next time for when Raven has a mishap again. Now Hoover did say that it has a 2x carpet cleaning formula and I have to agree with that compare to where I steam clean before with a different cleaner and with Hoover's cleaner I can see a major difference in the cleaning and the overall smell of the different cleaners this is overall a great cleaning solution and I highly recommend this to use in your steam cleaner whether you have a Hoover steam cleaner or not. Whether you have small pets or large pets it's great for dogs and cats. [This review was collected as part of a promotion.]WiccaMom
Removes per odors well
This product worked really well to get out dog smells and even cat urine - after a few applications. The scent of the cleaning solution is a bit strong on initial application, but once the carpet is dry and has had a few days to settle, the scent from the solution becomes pretty mild. [This review was collected as part of a promotion.]Punkinpie75
Worked for me
One came with the carpet cleaner I bought so I went a head and ordered a bigger one that they sent and am amazed by the difference! I don't think anyone ever cleaned the carpets. I could tell they had pets and I have a dog so it was fine that it was for pets. The pet smell that was already in house is gone I included a pic when I startedMrsWrong29
You may also be interested in