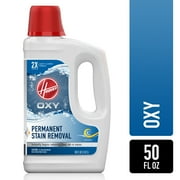 Win against life's toughest stains with HOOVER® Oxy Carpet Cleaning Formula. This fast-acting, stain fighting formula attacks and breaks down both old and new stains for easy cleaning. Oxy technology neutralizes pungent odors and leaves your carpets smelling fresh and clean with an ocean breeze scent.
OXY TECHNOLOGY: Permanently removes dirt and tough, colored stains
ADVANCED CLEANING ACTION: For use on carpet, upholstery and car interiors
ENHANCED PERFORMANCE: When paired with a HOOVER® stain remover and carpet cleaner
FOR USE IN FULL-SIZE DEEP CLEANING MACHINES: Including HOOVER®, Bissell and Rug Doctor, when used as directed
OCEAN BREEZE SCENT: For a fresh and clean-smelling home*2X: 3fl. oz. is equivalent to 6 fl. oz. of non-concentrated formula
About the Hoover Brand
Simple. Clean. Living. For more than 100 years, HOOVER® has been committed to improving the well-being of people's homes. The first ever Hoover innovation was an electric suction sweeper that used a pillow case to capture dust and allergens. And to this day, Hoover continues to develop simple-to-use products that enhance the cleanliness, the comfort and the health of people's homes. Because when your home is at its best, so are you.
Customer Reviews
Got out the stains!
I recently bought a Smartwash + and the Oxy Carpet Cleaning Formula to clean my son's bedroom carpet. Between eating and drinking in his room, accidents when he was training our dog, and general "kid" behavior, the carpet was full of a wide variety of stains. I vacuumed, pre-spotted with the Oxy and then cleaned the carpet with the Oxy in the Smartwash +. Beautiful! Most of the stains came out, leaving only a few dark spots where I didn't sufficiently pre-spot. Thanks to Oxy and Smartwash, I don't have to replace the carpet!Picky Pea
Do the job
It got rid of stains i would not have thought they could be gone in one time. I had grape juice, coffee and even car grease on my carpet. I pre-treated the stains, did a little brushing on them and they had already disappeared. Then I used my carpet cleaner to finish the job, and they were all gone. This is a great product!AudreyB
Amazing
This is the best carpet cleaning solution I have ever used. My carpets have never been cleaner! I love that it tackles any stain and it even leaves my house smelling amazing!Kelly197742
You may also be interested in