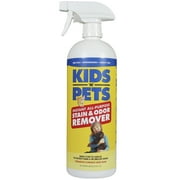 Kids n Pets Instant All-Purpose Stain And Odor Remover provides award-winning results. It tackles a wide variety of spills, stains and stenches to help keep any home looking and smelling its best. Guaranteed to permanently eliminate urine stench, leaving carpets and other soft surfaces with a fresh aroma. This professional strength Kids n Pets stain and odor remover is a must-have for unexpected accidents that can occur around the home. It's biodegradable, cruelty-free and non-toxic so it's kinder to the environment and safe to use around pets and children. This carpet and upholstery cleaner has a special formula that's ideal for cleaning up after pet urine and bed wetting accidents. It also has other handy uses for carpet stains, as a laundry pre-wash, detergent booster or even an air freshener.
Award-winning
Eliminates urine odors
Non-toxic carpet and upholstery cleaner
Biodegradable
Cruelty-free
Can be used on carpets, upholstery, laundry, mattresses, floors, auto upholstery and any other water-safe surfaces
Removes any biodegradable stain or odor
Specially Formulated for Families
For our little ones - fur and furless alike - we knew the product needed to be simple and SAFE. KIDS 'N' PETS is made of a cruelty free, non-toxic, environmentally friendly and biodegradable formula. Using the power of Oxygen Activated dirt removing enzymes, KIDS 'N' PETS is your go-to solution for every area of your home.
Customer Reviews
Incredible results
The Kids n Pets Instant All-Purpose Stain And Odor Remover is an amazing product. My husband wears a baseball hat at work on a daily basis. Due to sweat it leaves white stains on his dark colored hats. Since using this product it is removed all of those white stains and remove this smelly odor. This product is great for multiple reasons. It will remove stains from your carpet, clothing you name it. Not to mention it removes all those stinky odors Left Behind. We spray it in our cat Box to remove the odors from that period I would highly recommend everyone getting this product. It's an amazing cleaner and deodorizer.Sk6760
A brand to trust!!
Kids n Pets is definitely a brand you want to trust when it comes to stain and odor remover. I only know of a couple of brands that I can truly trust for that sort of thing, and the big name brands like Lysol and other household cleaning products just don't fit the bill (and they're not as safe for your home, children or pets)! That being said, you can trust Kids n Pets to be effective, but also safe for your little ones (including your little furry children). We all know that our babies and our pets live on the floors, and they love carpets and rugs especially, respectively. Stains and odors happen-- they're practically unavoidable when you have children and/or pets, but you can rest assure that this product will have you covered. I was really impressed with its ability to remove cat urine smell, which is a difficult one to remove, and it was also an odor that had been lingering for some time! I have not had a stain to use it for yet (hopefully won't need it for that), but I know this product handles both stains and odors alike, so I know I will trust to use it when and if I happen to have a stain.Sara
Awesome Stain & Odor Remover
I received my Kids n Pets instant all - purpose stain & odor remover last week. I like that the Kids n Pets instant all - purpose stain & odor remover is made in the USA is non-toxic, biodegradable and cruelty free. You can use the Kids n Pets instant all - purpose stain & odor remover on pet urine stains.odors, bed wetting, upholstery stains, as a laundry pre-wash, detergent booster, with a carpet cleaner and as an air freshener for litter box. They say it will even eliminate skunk odor but I hope to not test that. It is important to follow the directions. We have senior dogs that do not always make it outside. The Kids n Pets instant all - purpose stain & odor remover has worked great on new and old urine stains. I recommend the Kids n Pets instant all - purpose stain & odor remover.treky999
You may also be interested in