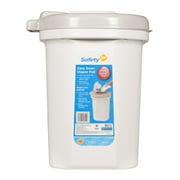 Keep dirty diapers out of sight and reduce unwanted nursery smells with the Easy Saver Diaper Pail. It works with standard plastic bags, eliminating the need to buy expensive, hard-to-find custom made bags. This Safety 1st diaper pail has a small and compact design that easily tucks under furniture or in a corner for out-of-the-way storage. It has a sealing, pop-top lid that holds a fresh-smelling deodorizing disc to provide convenient diaper disposal without overwhelming and lingering odors. Easy to clean, this plastic diaper pail features a wide opening that reduces the need to touch the pail when the diaper is thrown away.
Uses standard plastic bags, no costly refills
Includes 1 deodorizer disc
Replacement discs sold separately, 23900Safety 1st diaper pail has a convenient and compact design
Seal top pops open for easy drop and disposal storage
Wide-open lid reduces the risk of unwanted contamination Styles and colors may vary
Use and care instructions are included
Safety 1st believes parenting should have fewer worries and more joyful moments. As the first and only leader in child safety, Safety 1st is here to give you peace of mind so you can spend less time worrying and more time enjoying every first you experience with your child.
Customer Reviews
Multiple Uses
I like my purchase! I use it for my used doggie pee pads and it keeps the odor in until I get them to the trash. I also ordered one for my cats clumping litter deposits. I love the fact that it doesn't need special refill bags!TTinker

I like that u can use regular small trash bags, u don't need to spend the extra money on those special diaper pale bags. Also its not thin like other diaper pales so u can get a good amount in there. When u go to change the bag it does tend to smell, but what diaper pale doesn't. Just spray a little lysol spray or hang an air freshener inside and it is good to go. It will definitely save u moneyHappymom
Best diaper pail!
I love this diaper pail because you don't have to buy expensive refills. It only requires a trash bag. To keep it fresh, I spray it with Lysol weekly and pour 1/2 cup of baking soda in the new bag. This is my 2nd one for my 2nd child and I highly recommend it. It saves a lot of money in the long-run!Crystal
You may also be interested in