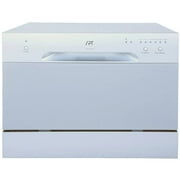 The Supertown Countertop Dishwasher is ideal for apartments, office kitchens or most small-sized kitchens. With a height of only 17.24", this unit will fit snugly between most counter tops and cabinetry, providing an additional work space in your kitchen. However, this kitchen dishwasher's space-saving, compact design does not detract from its sizable inside. Its spacious cavity loads up to six standard place settings and dishware up to 10.5". It also packs all the power of a full-sized traditional dishwasher in half the space. This dishwasher features an automatic detergent and rinse-aid dispenser to distribute a well-timed and even clean. This dispenser also has a warning indicator that lets you know when the rinse aid needs to be refilled. Additionally, the quick connection adapter attaches to most kitchen faucets. This handy feature completely eliminates the need to install direct plumbing or a permanent connection.The Sunpentown Countertop Dishwasher also sports a water supply warning indicator to let you know when the tap is not turned on, to conserve both time and energy.
This dishwasher accommodates up to 6 standard place settings and dishware up to 10.5" in diameter
Simple controls with indicator lights6 wash cycles: heavy, normal, light, miniparty, rinse and speed
Automatic detergent and rinse agent dispenser
Water supply warning indicator indicates faucet/tap is not turned on
Rinse aid warning indicator indicates when rinse aid needs to be refilled
Universal faucet adapter and Quick Connect
Easy connection to most kitchen faucets
No active drying function
Drying is done with the residual heat from the wash cycle and can take up to 4+ hours to complete
Energy consumption 203 kwh/year
Water consumption (normal cycle) 10.8 l / 2.85 Gal.Input/Element wattage: 8-Watt/60-Watt
Power cord length 4.5 ft.Model number: SD-2213W
Weight 43 lbs
Dimensions: 21.65 x 19.69 x 17.24 in.
Customer Reviews

The size was perfect for my counter top. The hoses were the right length and attachment to/ detachment from the faucet is easy. The unit itself runs quietly, but the water draining out is a bit noisy. The dishes come out clean and provides the sanitation for which I had bought it. I am pleased with my purchase.Melba
Great machine!!
Arrived undamaged, best packaging I've ever received. It works like a charm and is very quiet, the only time I hear it is when the water drains out.. It does take a long time to run through the complete cycle but i run it in the evening and it isn't a bother. I really like it and i would recommend it highly!!gypsyjww1
Saved my life!!!
This is the best money I think I've ever spent. I have two kids (one too small to care and one too big to care) so my sink was always full! There are no leaks, no issues and it's very quiet. Works well with power and pods. I LOVE THIS DISHWASHER!!!MomofSix
You may also be interested in