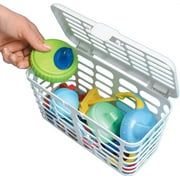 The LARGEST capacity dishwasher basket available! It is designed to thoroughly sanitize anything that fits inside from toddler paraphernalia to hard to clean kitchen gadgets which means it can be used forever, even once toddler has grown up. Basket is top rack safe and fits all dishwashers.
Quick load bottom basket holds all brands of Baby bottle nipples
Sanitizes hard to clean items like spill proof cups
The largest capacity basket available
THE ONLY dishwasher basket that holds nipples directly above water jets for the most thorough sanitizing and rinsing
Upper compartment holds pacifiers bottle collars teethers and more!
Customer Reviews
What a great idea!!
Oh my! This item is a great idea! I wish I would have had this with our first grandchild. This little basket is perfect for all the small bottle pieces and sippy cup lids. It keeps all the small pieces from flying all over the dishwasher. It is fairly ly large, you can get several items in the basket it and the lid closes firmly.YoungMemaw
Great for cleaning small items
This is a great toddler dishwasher basket. It fits easily in the top rack of the dishwasher. It is a good size and holds a lot of small pieces like sippy cup parts, toddler cup lids, bottles, straws and toddler cutlery. The basket has a lid that can be closed and because of the bigger size of this basket it can still hold the toddler cups when the lid is closed. It stays closed during cleaning so no more looking for small parts on the bottom of the dishwasher's floor. I love that it can hold a lot of items because of the bigger size. It is sturdy and of high quality. Really recommend this basket!Hendrika
I never knew I needed one
This thing is very helpful for sterilizing small things such as bottle nipples and pacifiers. Sometimes chew toys can fit too. I never knew I needed one because I already have a sterilizer for the bottles. It neat coz I didn't have to sterilize them separately. I just put it in the dishwasher at night when I turn it on. The only thing about this is, if you needed your stuff right away and can't wait until the dishwasher is done. Coz in reality, you only run it once a day which is at night.PurpleYam
You may also be interested in